Dell H290AM-00 power supply is compatible with DELL OPX 9020 7020 3020 XE2 T1700 Tower 290W Power Supply ,value price and high-quality performance.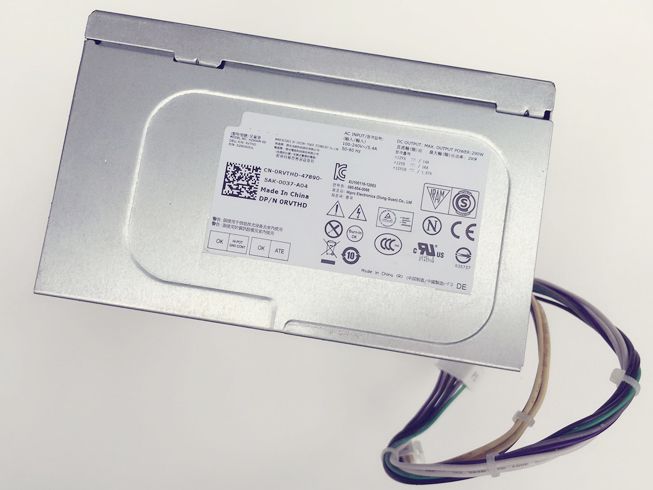 ● High-quality Dell H290AM-00 adapter 50Hz-60Hz, with very popular price price at our store.
● It is totally compatible with the DELL OPX 9020 7020 3020 XE2 T1700 Tower 290W Power Supply . Our all products are tested by CE and topped in the battery field.
● Every customers would get our best service. 1-year maintance and 30-days goods back. If you got unsatisfied service or any other problems, welcome to contact us.
| | |
| --- | --- |
| Brand : | Dell |
| Input voltage : | 50Hz-60Hz |
| Output voltage : | 100-127V ~ / 6A - 220V-240V ~ / 3A |
Replaceability with the following models:
Product Compatibility:
Model: Power: 290W
DP/N: RVTHD
Model: H290AM-00
Compatiebl DP/N: HYV3H
Connectors: 
- P1 - 8 Pin Motherboard System Board Power Connector
- P2 - 4 Pin Motherboard System Board Power Connector

Compatible With: 
- Dell Optiplex 3020 Tower
- Dell Optiplex 7020 Tower
- Dell Optiplex 9020 Tower
Instructions for Use
1.the environment in which the computer is used should not be too humid. A damp environment can easily cause poor oxidation contact between various boards of the computer. Or there is the possibility of leakage, which causes a short circuit.
2.develop a good habit of turning off the power after turning off the computer. Because of the thunderstorms in summer, pay attention to the phone line on ADSL and the network cable on the network card. Prevent lightning strikes.
3.the environment using the computer can not overheat. In an overheated environment, the computer is more likely to cause poor heat dissipation in the host and cause a crash. Especially now the heat of the computer is so high.
4.do not use the computer for a long time in the summer, it is best to start the machine frequently to dispel the moisture. This is the same as TV. TV is not used for a long time, it is easy to absorb moisture, and it is harmful. The same is true for computers.
5. It is not advisable to switch on and off frequently in a short time. This season is to be avoided no matter what season. The instantaneous current of the switch is the most vulnerable to damage to computer components.
Here, we provide other products for your reference:
ASUS C11P1618 3300mAh/12.5WH 3.85V
Medion A41-D17 3000mAh/45Wh 15V
Lenovo SB10F46456 4200mah/32Wh 7.6V